"The London Sake Challenge is a great chance to taste new sake. Personally I have followed up on tastings at the challenge in the past as I have plenty of time to assess a wide number of sake in great detail (even packaging!) I know the breweries that enter the London Sake Challenge are very international minded, and those are the sort of breweries I want to work with in Singapore "

Adrian Goh – Marketing Director, Inter Rice Asia
At the London Sake Challenge, all entered sake products will be judged by Certified Sake Sommeliers from all over the world.
Each sake tasted will be scored individually and not comparatively. After the professional tasting the sake will then be judged for label elegance and packaging.
In order to guarantee a fully objective judgement, the individual scores given by the jury members will be added up and averaged to attain a final score for each sake.
The sensory quality of each sake is measured as follows:
The eye will determine the intensity, appearance, type, and brilliance of the product.
The nose will discover the bouquet and aroma.
The mouth will reveal the flavour and taste.
The harmony of the nose and length in the mouth will inform the final overall appraisal of the product.
The elegance and packaging will also be judged and advice on presentation will be given to the participants to help them successfully introduce their sake to the UK market (mark separate to overall assessment)
Scores are indicated by stars from 0 to 10 as follows: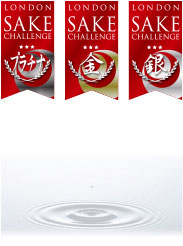 0 star (Does not meet the standard of the challenge)
1-2 star (Fair)
3-4 star (Good)
5-6 star (Very Good) – Silver Medal
7-8star (Highly recommended) – Gold Medal
9-10 star (Outstanding) – Platinum Medal
Premium sake is currently enjoying an elegant appreciation in the UK as a brand new and sophisticated drink and it is increasingly being appreciated in the same vein as fine wine.
It is being consumed not only in Japanese restaurants but also in sophisticated bars and gastronomy restaurants. The London Sake Challenge will promote Japanese sake worldwide by challenging the pallet of new consumers, exhilarating and encouraging them to appreciate sake with other international flavours.