"The London Sake Challenge is a great chance to taste new sake. Personally I have followed up on tastings at the challenge in the past as I have plenty of time to assess a wide number of sake in great detail (even packaging!) I know the breweries that enter the London Sake Challenge are very international minded, and those are the sort of breweries I want to work with in Singapore "

Adrian Goh – Marketing Director, Inter Rice Asia
At the London Sake Challenge, all entered sake products will be judged by certified sake sommeliers from all over the world.
Each sake tasted will be scored individually and not comparatively. After the professional tasting the sake will then be judged for label elegance and packaging.
In order to guarantee a fully objective judgement, the individual scores given by the jury members will be added up and averaged to attain a final score for each sake.
The sensory quality of each sake is measured as follows:
The eye will determine the intensity, appearance, type, and brilliance of the product.
The nose will discover the bouquet and aroma.
The mouth will reveal the flavour and taste.
The harmony of the nose and length in the mouth will inform the final overall appraisal of the product.
The elegance and packaging will also be judged and advice on presentation will be given to the participants to help them successfully introduce their sake to the UK market (mark separate to overall assessment)
Scores are indicated by stars from 0 to 5 as follows:
0 star (Does not meet the standard of the challenge)
1 star (Fair)
2 star (Good)
3 star (Very Good) – Bronze Medal
4 star (Highly recommended) – Silver Medal
5 star (Outstanding) – Gold Medal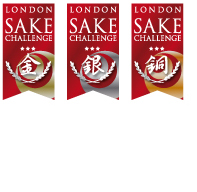 Premium sake is currently enjoying an elegant appreciation in the UK as a brand new and sophisticated drink and it is increasingly being appreciated in the same vein as fine wine.
It is being consumed not only in Japanese restaurants but also in sophisticated bars and gastronomy restaurants. The London Sake Challenge will promote Japanese sake worldwide by challenging the pallet of new consumers, exhilarating and encouraging them to appreciate sake with other international flavours.
Introducing our head judges from previous years of London Sake Challenge
Haruo Matsuzaki Profile:

Haruo Matsuzaki is an independent sake journalist and consultant, and serves as Chairman of Japan's Sake Export Association. He is currently a columnist for three Japanese Magazines and has several books to his credit: "Nihonshu Guide book: Tastes of 1635 (A guidebook of 1635 kinds of different sake)", "Shin-meishu Kikou (Travels in Search of Unknown Sake)", "Nihonshu no Text 1&2 (textbooks for studying sake)" as well as "Nihonshu Shoumishi," written in Chinese and published in Taiwan. He holds several seminars each month geared toward helping consumers understand what sake is. They are held not only in Tokyo, but also in many other cities around Japan. He has also won the Junsui Nihonshu Kyokai (Pure Sake Association) Sake Tasting Contest, an unprecedented number of more than 30 times.
Corinne Mui Profile:

Corinne Mui is the Chief Operating Officer and Senior Wine Educator of Asia Wine Service and Education Centre (AWSEC), the winner of Riedel Trophy for WSET Educator of the Year for 2013. AWSEC is a full time independent wine school pioneers for 20 years in Asia. She is a Certified Sake Sommelier and Educator to teach Sake Sommelier Association (SSA) courses after an intensive training in Japan. She has gained qualifications and certified educator for WSET Diploma, A+ Australian Wine School, Barossa Wine School, International Sommelier Guild (ISG) and many more. She is also the Greek wine Ambassador in Asia for Greek wine government. Corinne is dedicated to share her wine experiences and discoveries through her teaching. She also represented various governments at Vinexpo and major International wine fairs. In addition to wine education, Corinne has also been involved in wine judging competitions, wine writings and events.
Sake Sommeliers
| | |
| --- | --- |
| Joan Lim | SINGAPORE |
| Martin Ayotte | CANADA |
| Maximilian Fritzsch | GERMANY |
| Roland Eble | SWITZERLAND |
| Philippe Lutcher | FRANCE |
| Pete Pedrick | UK |
| Joe Warwick | UK |
| Fong Yee Wong | NETHERLANDS |
| Atilio Falco | ARGENTINA |
| Peter-Charles Udom | USA |
| Carlos Morante | SPAIN |
| Maija Juusela | FINLAND |
| Keiko Yamamoto | JAPAN |
| Stephan How | AUSTRIA |
| Suvad Zlatic | AUSTRIA |
| Lau Ho Man | HONG KONG |
| Wojciech Cyran | POLAND |
| Stanley Chang | KOREA |
| Clara Rubin | UK |
| Yang Gutschera | CHINA |
| Noel Pusch | SWITZERLAND |
| Christian Maspes | ITALY |
| Alexander Prede | GERMANY |
| Kaori Ishii | Norway |
| Alex Down | UK |
| Jean-Paul Choi | LUXEMBURG |
| Siméon Molard | FRANCE |
| Julien Casorla | FRANCE |
| Gerard Basset | UK |
| Naoyuki Torisawa | JAPAN |
| Cathie Jikiun | NORWAY |
| Francisco Nevot | SPAIN |
| Reinhard Pohorec | AUSTRIA |
| Jóna Sigurðardóttir | ICELAND |
This is a short list of sake sommeliers from around the world.