Directed by the Sake Sommelier Association, the London Sake Challenge is one of the most globally prestigious sake competitions and Europe's oldest sake contest.
Building on over 6 years of experience, and judged solely by Certified Sake Sommeliers, the London Sake Challenge is THE challenge for sake breweries from around the world looking to showcase their best sake.
Sake collectors, aficionados, distributers, importers, journalists, and fans gather annually in London to watch a multitude of sake breweries from every corner of the world recognise and reward the very best in sake.
Consistently covered by the Japanese, British, and international media, the London Sake Challenge is a wonderful opportunity for both those looking to expand their sake into new markets and those who wish to reinvigorate their existing markets.
The next London Sake Challenge will be held Sping 2019.

NEWS
21st May,
London Sake Challenge 2018 was held successfully last Sunday. We had lots of fun with sommeliers from across the world!
33 judges assessed over 150 sake entries to award 12 bottles with the coveted 'platinum' rating.  The full results will be released on the 20th June 2018.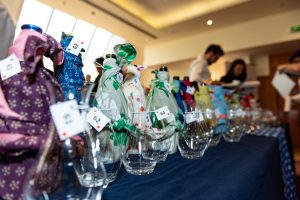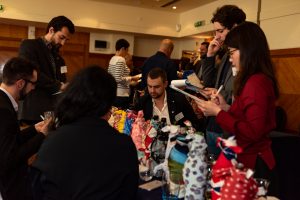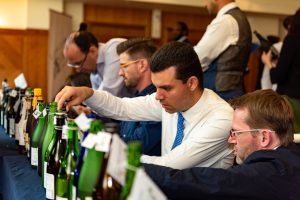 20th Apr,
After the London Sake Challenge 2018, there will be a reception and public sake tasting event where you can try the 150 premium sake entries of this year's competition.
Date: 20th May 2018
Time: 17:15-19:30
Admission is free
This event is by invitation only, so if you would like to attend, please contact info@londonsakechallenge.com
There will be a prize draw at the end of the reception, so please remember to bring your business card for the raffle.

We believe that judging sake is as difficult as judging wine (if not more so), for that reason our judges are all Certified Sake Sommeliers. The London Sake Challenge has chosen Sake Sommeliers from around the world, resulting in the benefit of international palates and interpretations towards the judging process.
Having spent over twenty years with sake, we at the London Sake Challenge take great pride in our passion and experience. We strive to treat sake with the same love and respect as the master brewers who make it do.
Enter now for your chance to win a coveted LSC Medal. Winning sake receive 200 complimentary medal stickers, detailed tasting notes, and marketing support (including social media exposure throughout the year). By simply entering your sake will be showcased to industry leading professionals both on and off trade.