Directed by the Sake Sommelier Association, the London Sake Challenge is one of the most globally prestigious sake competitions and Europe's oldest sake contest.
Building on over 5 years of experience, and judged solely by Certified Sake Sommeliers, the London Sake Challenge is THE challenge for sake breweries from around the world looking to showcase their best sake.
Sake collectors, aficionados, distributers, importers, journalists, and fans gather annually in London to watch a multitude of sake breweries from every corner of the world recognise and reward the very best in sake.
Consistently covered by the Japanese, British, and international media, the London Sake Challenge is a wonderful opportunity for both those looking to expand their sake into new markets and those who wish to reinvigorate their existing markets.
The next London Sake Challenge will be held in Spring 2018.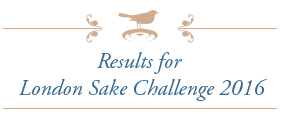 We believe that judging sake is as difficult as judging wine (if not more so), for that reason our judges are all Certified Sake Sommeliers. The London Sake Challenge has chosen Sake Sommeliers from around the world, resulting in the benefit of international palates and interpretations towards the judging process.
Having spent over twenty years with sake, we at the London Sake Challenge take great pride in our passion and experience. We strive to treat sake with the same love and respect as the master brewers who make it do.
Enter now for your chance to win a coveted LSC Medal. Winning sake receive 200 complimentary medal stickers, detailed tasting notes, and marketing support (including social media exposure throughout the year). By simply entering your sake will be showcased to industry leading professionals both on and off trade.
Introducing our head judges from previous years of London Sake Challenge
Haruo Matsuzaki Profile:

Haruo Matsuzaki is an independent sake journalist and consultant, and serves as Chairman of Japan's Sake Export Association. He is currently a columnist for three Japanese Magazines and has several books to his credit: "Nihonshu Guide book: Tastes of 1635 (A guidebook of 1635 kinds of different sake)", "Shin-meishu Kikou (Travels in Search of Unknown Sake)", "Nihonshu no Text 1&2 (textbooks for studying sake)" as well as "Nihonshu Shoumishi," written in Chinese and published in Taiwan. He holds several seminars each month geared toward helping consumers understand what sake is. They are held not only in Tokyo, but also in many other cities around Japan. He has also won the Junsui Nihonshu Kyokai (Pure Sake Association) Sake Tasting Contest, an unprecedented number of more than 30 times.
Corinne Mui Profile:

Corinne Mui is the Chief Operating Officer and Senior Wine Educator of Asia Wine Service and Education Centre (AWSEC), the winner of Riedel Trophy for WSET Educator of the Year for 2013. AWSEC is a full time independent wine school pioneers for 20 years in Asia. She is a Certified Sake Sommelier and Educator to teach Sake Sommelier Association (SSA) courses after an intensive training in Japan. She has gained qualifications and certified educator for WSET Diploma, A+ Australian Wine School, Barossa Wine School, International Sommelier Guild (ISG) and many more. She is also the Greek wine Ambassador in Asia for Greek wine government. Corinne is dedicated to share her wine experiences and discoveries through her teaching. She also represented various governments at Vinexpo and major International wine fairs. In addition to wine education, Corinne has also been involved in wine judging competitions, wine writings and events.
Sake Sommeliers
| | |
| --- | --- |
| Joan Lim | SINGAPORE |
| Martin Ayotte | CANADA |
| Maximilian Fritzsch | GERMANY |
| Roland Eble | SWITZERLAND |
| Philippe Lutcher | FRANCE |
| Pete Pedrick | UK |
| Joe Warwick | UK |
| Fong Yee Wong | NETHERLANDS |
| Atilio Falco | ARGENTINA |
| Peter-Charles Udom | USA |
| Carlos Morante | SPAIN |
| Maija Juusela | FINLAND |
| Keiko Yamamoto | JAPAN |
| Stephan How | AUSTRIA |
| Suvad Zlatic | AUSTRIA |
| Lau Ho Man | HONG KONG |
| Wojciech Cyran | POLAND |
| Stanley Chang | KOREA |
| Clara Rubin | UK |
| Yang Gutschera | CHINA |
| Noel Pusch | SWITZERLAND |
| Christian Maspes | ITALY |
| Alexander Prede | GERMANY |
| Kaori Ishii | Norway |
| Alex Down | UK |
| Jean-Paul Choi | LUXEMBURG |
| Siméon Molard | FRANCE |
| Julien Casorla | FRANCE |
| Gerard Basset | UK |
| Naoyuki Torisawa | JAPAN |
| Cathie Jikiun | NORWAY |
| Francisco Nevot | SPAIN |
| Reinhard Pohorec | AUSTRIA |
| Jóna Sigurðardóttir | ICELAND |
This is a short list of sake sommeliers from around the world.